Ordering
How to Order:

Any regularly stocked item from our product listings can be ordered in one of the following ways:

• By using our on-line order form
• By phone
• By email

If not using our order form, be sure to include:

• The item number (e.g. R2321)
• The manufacturer (e.g. Hornby)
• The quantity required
• Your complete shipping address
• Your contact information (e.g. phone number, fax number, or email address)
• How you wish to pay.
We accept Visa or MasterCard for card payments made directly with ourselves.
Additionally we accept Interac for in-store transactions and in-person at the shows we attend.
We can also send you a Paypal invoice should you wish to pay through Paypal. This way you can use your credit card, bank account or Paypal account to pay. (You do not have to be a Paypal member to use the Paypal system).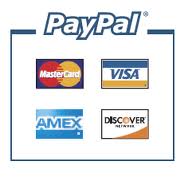 Payment must be complete before goods are shipped.

We also accept Money Orders in Canadian, or US currency. Please make sure your US Money Order is negotiable outside your country. For United States customers, this means you need an International Money Order (which is pink in color as opposed to the green colored domestic orders).

Personal cheques/checks are readily accepted from our regular customers with no delay in shipment but new customers are advised that personal cheques/checks must clear before goods can be sent. (This can take some time).

If you are visiting in person, we accept cash in Canadian, or US, dollars with the appropriate exchange rate given, but please DO NOT SEND CASH IN THE MAIL.

Advance Orders:

You can place an advance order for a model which is not yet released. We will usually not require any deposit for these orders although we may ask for you to confirm your order with a deposit, not to exceed $50, for items that we expect may be provided to us on an allocation basis. (Allocation is where, due to unexpected worldwide demand, we are advised we are to receive fewer units than we ordered).

In the case of an allocation, orders will be filled on a first-come, first-served basis. We recommend using our advance order facility for any model that you are REALLY wanting to get, which is not yet released. Remember that many models sell out quickly so don't be disappointed!
Due to several instances of people ordering items but not completing the purchase when the item arrives here, we will ask for deposits with order, for items that we would not bring in for our regular stock.

Special Orders:

Special Orders are accepted for items that are currently available from the manufacturer, but are not normally carried in stock by us. These Special Orders require a 50% holding deposit at our discretion (that means if we know you, there may be no deposit required). These items are usually delivered within three to four weeks.

Minimum Order Value:

We have had to initiate a minimum order value due to the amount of staff time involved in processing an increasing number of small orders for shipping. Our minimum order value is presently Cdn $10 with the exception of manufacturers catalogues.
Spare parts:
We do carry some parts for Hornby products. Our parts service exists to respond to customers fixing products purchased either direct from Hornby or from an authorised North American Hornby retailer.

The growing trade in used items (especially older and/or well played with items) bought on Ebay and other online auctions creates a search for parts which we do not have the resources to fulfill and thus such requests must be handled under our minimum order value policy (see above).

Shipping & Taxes:

Shipping costs are based on actual cost. We do not charge for boxes, packing materials or handling fees. Our orders are shipped by post or courier at our discretion. If the value is over $100 the item will be shipped with insurance.

For Canadian residents we must add appropriate sales taxes to the order. This means either GST only or your Provincial HST rate. BC residents will have the 7% BC-PST and 5% GST applied to the order.

US customers do not pay any additional duties or taxes on items shipped by us to the United States.
No duties or taxes are added by us to invoices for packages going outside North America. Your own customs people may add VAT or other taxes as your package enters your country.
Questions?:
If there is any aspect of our ordering process that you are unclear about, just send your question in an email. In fact, if you have any question about British model railways, or the products we carry, just email or phone us and we will do our best to answer.