Welcome to Britannia Models
Your British Model Trains & Accessories Destination!
If you are interested in British model trains you have come to the right place.
We carry trains, diecast vehicles and accessories from companies such as Hornby, Bachmann Branchline, DJ Models, Dapol, Oxford Rail, Oxford Diecast, Corgi, Graham Farish, Metcalfe, Peco, Ratio, Wills and more.
We also carry Canadian HO trains from companies such as Rapido, Bowser, Atlas, InterMountain and more.
Click on the tabs and sub-tabs to go directly to our various product listings!
NEW Phone: 604-465-5074
Email: info@britanniamodels.com
Office Hours: Tuesday - Saturday 10:00am to 5:00pm Pacific
---
Enjoy your visit to Britannia Models and try our friendly service.
Thank you for stopping by!
---
Show Schedule
Victoria Model Railway Show - Victoria, BC (Juan de Fuca Recreation Centre) - Sunday May 29th - Open 10am to 4pm
---
Latest News:
May 10, 2016 - I would first like to say Thank You to everyone who came out to the Vancouver Island Spring Model Railroad Show 2016 in Nanaimo! It was a great show and it was so nice to meet with so many people who are passionate about British trains! I can't believe it's already less then 3 weeks until our next show in Victoria!
It's been busy here since we got back! A shipment from Hornby arrived on the first day (Welcome Home Eh!). We have this now unpacked and I am getting all the new items added to the website along with updating some previously sold out items such as the R3336 Flying Scotsman.
If you have looked at our Hornby Steam Locomotives page over the last couple of days you may have noticed two new models... We have in stock the Hornby R3339 LMS Coronation 4-6-2 (With Streamlining!) #6229 "Duchess of Hamilton & the Hornby R3338 B1 Thompson 4-6-0 #61310 in BR Apple Green. Both these models were originally exclusives to Hornby.com but were made available to retailers after release but our stock is already running low! Check out the Steam Locomotives page for details!


We have also finished updating the Bachmann Steam Locomotives Page, Diesel Locomotives/ Electric Locomotives/ DMU/ & EMU Page & Coaches Page. These include new items that are in stock along with items that are available for us to order in from Bachmann for you and items on pre order. Bachmann locomotives that are in stock include the BR C Class 0-6-0, BR Midland 1F 0-6-0T, BR 3F Jinty 0-6-0T, BR Class 08, BR Class 20 and more!

On the subject of Bachmann, you may have noticed the prices are lower now as well. With the British Pound at a better exchange rate to the Canadian Dollar as of late we have adjusted the prices of items compared. We have also adjuested the prices for the recent Hornby shipment as well to reflect the exchange rate we paid when we brought them in from England! Some items dropped by $20 to $25 dollars but the R3299 Going Home' 70th Anniversary of the end of WWII Train Pack dropped by almost a full $100! We only have 1 left so act fast if you would like this one (did you know it cames with LMS Black Five #5156 'Ayrshire Yeomanry').
We still have more to update to stay tuned!
...............................................................................................................
April 22, 2016 - My how the time has flown by since the last Latest News!
First off, we will be attending the Vancouver Island Spring Model Railroad Show 2016 in Nanaimo, BC this coming Sunday. If you are at the show, come by and say Hello! We would love to meet all of you and you can check out all the latest products that have arrived! Also with this, we won't be in the office to answer the phone or emails until our return but we will be back on Tuesday April 26 to business as usual!
Speaking of new products, our shipment of Bachmann products has arrived here late last week at Britannia. We have some new BR Mk1 coaches and various Steam & Diesel locomotives and some Scalescene buildings to go with them as well! We will be updating the website next week once we return with all the products.
Rapido Trains has annouced, since the last Latest News, that they will be making the GE Dash 8-40CM locomotives with the full wide body and the famous "Draper Taper"! These will be produced in various CN Paint Schemes (including with stripes, North America outline & Website scheme) along with BC Rail units in the Red, White & Blue Scheme. Check out our "Canadian HO" section for more details. Rapido has also advertised that the new Dash 8-40CM models are being designed with "Wife-Approved Pricing!" (that one is all Rapido, credit to them!). With DC Silent at $174.95 and DCC Sound at $264.95 these are sure to be great additions to anyones HO layout! Considering that both the CN and the BC Rail units have travelled far and wide across not only Canada but the United States they really are at home on any layout! So Pre-Order now!


Still with HO, InterMountain are producing the new GE ET44AC in CN's Website Paint Scheme. Prices to come at a later date for the Sound units. Check out our "Canadian HO" Section for more details.
Only about 1 month left to Pre-Order your Rapido Trains MLW FA-2 & FPA-2 models & GMD GMD-1 14xx's & 16xx's (the one with the stripes!). Last day is May 24th to Pre-Order. After that you can still order them from Britannia but it'll only be for the ones still left that are ordered for stock. Best way to make sure you get the unit your looking for is to place your order while they are still open from Rapido.
...............................................................................................................
March 8, 2016 - It's been a busy week here at Britannia Models! We have received new items in stock from Hornby including the Sir Winston Churchill Funeral Train Packs, the J50 0-6-0T's, a resupply of #6000 'King George V' 4-6-0's and many more items from Hornby!

We also have received a large variety of Dapol Stanier 57' Coaches & 60' Coaches in various BR paint schemes as well as the Dapol Class 73.
We have now recieved more diecast vehicles than you can shake a stick at! We have ones from Oxford Diecast, BT Models and Classix's back in stock.
Also we have a couple of Oxford Rail wagons that have arrived.
And lastly from Rapido the CP GMD FP9A locomotives have arrived here at Britannia Models!

It will take some time to fully update the website with all the items that have arrived (we literally have hundreds of items!)
Lastly, we have updated this weeks specials, check them out!
...............................................................................................................
February 13, 2016 - This week we had a restock of various tools that will be a great aid to many modelers out there! We have items such as the Excel Helping Hand, Excel Magnavisor, Xuron Track Cutter and Atlas layout wire - Red (50' spool). Check out the Miscellaneous > Other useful stuff page for more details!
Also this week for the Canadian modelers we have a few HO Atlas BC Rail NSC 50' Plug Door Boxcar and CN NSC 50' Plug Door Boxcar & Precision Design 50' Rib-side Boxcar. We also got some Atlas BNSF GE Dash 8-40CW diesel locomotives in as well. Check these out in the "Not So Canadian Locmotives" page!

...............................................................................................................
February 9, 2016 - We have launched a Weekly Special's section where every week we will put some items On Sale but only for One Week! Check out the 'Specials' page for this weeks deals!
Also, we have added all the Hornby 2016 Range Coaches and Wagons to the Hornby pages. Pictures will follow shortly. While we are still going through the inventory, some items on these pages have been removed until our inventory checking is completed and we can put items back on the website.
...............................................................................................................
February 3, 2016 - The Bowser GMD SD40-2 have arrived today here at Britannia Models. The price is $269.95 Canadian (DC Silent). We have all the BC Rail paint schemes and road numbers in stock as well as various CP Rail paint schemes and road numbers. Most of these are already sold out at Bowser so hurry as quantities are limited!


Also last weekend Rapido annouced a variety of Canadian and American HO models including the CN GMD-1 (the one with the stripes!) and the VIA Rail Rebuilt F40PH-2D. These are all now available to Pre-Order. Check out the Canadian HO Section for more details!


...............................................................................................................
January 24, 2016 - Today Oxford Rail announced that it was adding the GWR Class Dean Goods 0-6-0 in GWR Lined Green, GWR Plain Green & BR Black to its range of OO products along with Cattle Wagons, 6 Plank Wagons and 4 Plank Wagons! These products are now available to Pre Order.
Also we have completed adding all the OO, N and O scale products available from DJ Models including OO scale LNER Class J94 0-6-0ST, N scale GWR Class 43xx 2-6-0, N scale NER Class Q6 0-8-0, N scale BR Class 17, N scale BR Class 23 Baby Deltic, O scale LNER Class J94 0-6-0ST & O scale BR Class 23 Baby Deltic. All these products and more are available to Pre Order!
We have also added all the DJ Models N scale Rolling Stock items to the website including the Shark 20Ton Ballast Plough, Mermaid Ballast Wagon, LSWR Brake Van, and Turbot Bogie Ballast Wagon. These are also available to Pre Order now.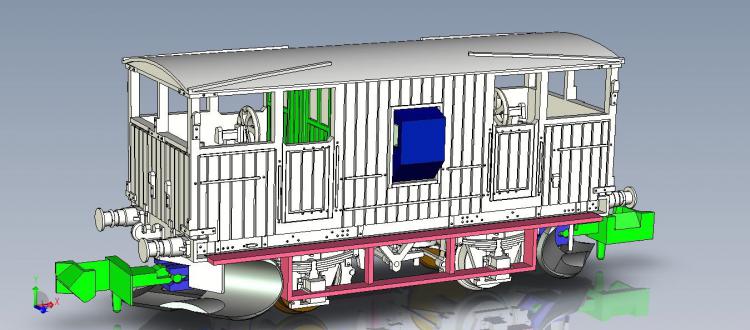 ...............................................................................................................
January 20, 2016 - Our new 'Canadian HO' Section has been generating a lot of positive feedback! The item that's getting the most attention is the Rapido Canadian Pacific H1c, H1d & H1e 4-6-4 Royal Hudson's! We are currently taking Pre Orders for these models. With regards to the price and the Canadian dollar, Rapido have annouced they are Locking the Canadian prices against the falling loonie which means that the price for the Royal Hudson's will not increase above the MSRP! The Rapido RDC Budd Cars are in the same boat that the price will not increase above the MSRP! We are also taking Pre Orders for the RDC's but hurry as the deadline is March 7th!

We also still have some of the soon to arrive Rapido FP9A in Canadian Pacific & VIA Rail colours available to order. As well as the Bowser GMD SD40-2 models in Canadian Pacific & BC Rail colours available to order. Both of these are expected to arrive in the not too distant future and we have some still available to reserve.

We've also been busy adding more items and updating the different pages of Britannia Models. We have completed adding all the Hornby OO Steam Locomotives from the 2016 Range including the TTS Sound fitted models and you can Pre Order these items. As well as the Hornby Train Packs from the 2016 Range have also been added including 'The Last Steam Hauled 'Golden Arrow' - Limited Edition', 'Lyme Regis Branch Line Pack - Limited Edition', 'LNER Queen of Scots Train Pack - Limited Edition' and 'The Bristolian Train Pack - Limited Edition'. More details on these packs can be found on the OO; Hornby; Train Packs section of our website.

...............................................................................................................
January 14, 2016 - It has been a very busy time here at Britannia Models! We are still going through inputting our inventory so we would like to thank all our customers for their patience at this time!
We are still working on getting our website back to 100% accuracy for what's in stock and what's available to Pre Order.
First off we have added the Steam Locomotives from the Hornby 2016 Range to the website. Picture will follow shortly but take a look at whats coming this year! From the SR Merchant Navy 4-6-2's to the NER Q6 0-8-0's and the B12 4-6-0's it looks like it's going to be an exciting year! Oh and the Peckett W4 0-4-0ST's!
...............................................................................................................
January 6, 2016 - Our new Canadian HO section is now up on the website! We still have more items which we will be adding to our "Canadian Corner" over the next few days so please watch this space. For now though we have Rapido Trains' new GMD FP9A diesel locomotive models in various Canadian Pacific and VIA Rail paint schemes up on our website. The Pre-Order date for these models has passed but we have some that we ordered before the due date that can be reserved now. We also have a couple of InterMountain SD40-2 models in Canadian Pacific's St.L&H paint scheme available to reserve as well. Also, from Rapido Trains we have the 52' 6" Mill Gondola freight cars In Stock in Canadian Pacific & Canadian National paint schemes.
In OO, we have some Dapol Class 52 Westerns & Dapol Class 22 locomotives In Stock as well various Dapol wagons including Grampus, 16-Ton Steel Mineral Wagons and more.
We are working on a full update of our website which may take up to a couple of weeks to complete but if there are any items that you see on our website that you are interested in but not sure if they are in stock please email or phone us at our new number (604) 465-5074 to find out!
---