Welcome to Britannia Models
Your Online British Model Trains & Accessories Destination!
If you are interested in British model trains you have come to the right place.
We carry trains, diecast vehicles and accessories from companies such as Hornby, Bachmann Branchline, DJ Models, Dapol, Oxford Rail, Oxford Diecast, Corgi, Graham Farish, Metcalfe, Peco, Ratio, Wills and more.
We also carry Canadian HO trains from companies such as Rapido, Bowser, Atlas, InterMountain and more.
Click on the tabs and sub-tabs to go directly to our various product listings!
NEW Phone: 604-465-5074
Email: info@britanniamodels.com
Office Hours: Tuesday - Saturday 10:00am to 5:00pm Pacific
---
Enjoy your time in our online store!
---
Show Schedule
Thank You to Everyone for a Great 2016 Show Season!
---
Latest News:
For the month of December we will be running a "December Christmas Sale"! We have a lot of models on sale to help with your Christmas shopping, whether it be for a friend, family or even a gift for yourself! Check back often as we will be adding items throughout the month.
Check our 'Specials' page for details!
...............................................................................................................
We have received a delivery of new Bachmann products including the latest releases of the GWR 64xx 0-6-0PT and the BR 4MT 2-6-4T.
For the 64xx we have item #31-635A GWR 64xx 0-6-0PT #6424 in Green with 'GWR' ($144.99), item #31-636A BR 64xx 0-6-0PT #6422 in Plain Black with Early Crest ($144.99), & item #31-638 BR 64xx 0-6-0PT #6419 in Lined Green with Late Crest and Weathered ($154.99).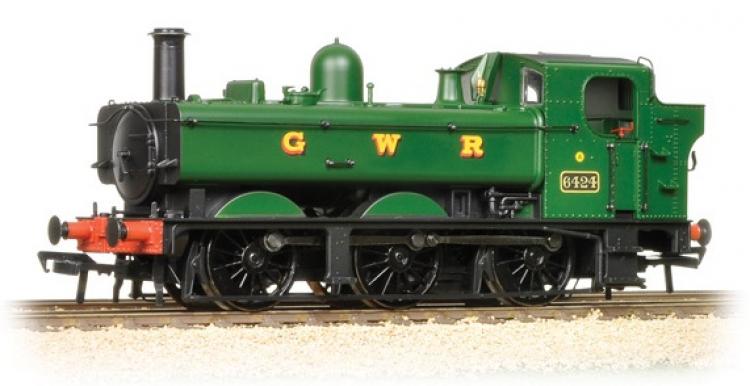 The 4MT Tank we have item #32-353 BR 4MT 2-6-4T #80135 in Lined Green with Late Crest as preserved on the North Yorkshire Moors Railway, item #32-359A BR 4MT 2-6-4T #80092 in Lined Black with Early Crest, and item #32-360A BR 4MT 2-6-4T #80104 in Lined Black with Late Crest. On a side note, BR #80104 is currently preserved on the Swanage Railway. All three version are in stock and available to ship for only $179.99!
We also have received some Canadian HO models from Atlas. Item #10001400 GMD GP40-2W CN #9639 in North America Map scheme ($179.99) and is also available as item #10001416 with DCC Sound ($224.99). Atlas Item #10001244 GE Dash 8-40C CN #2120 in Website scheme and DCC Sound ($189.99). For a bit of something different from all those CP painted units on your layout, we have item #10001769 EMD GP38-2 SOO #4405 in Red & White with DCC Sound ($229.99). We also have new HO freight cars which we will adding over the next few days.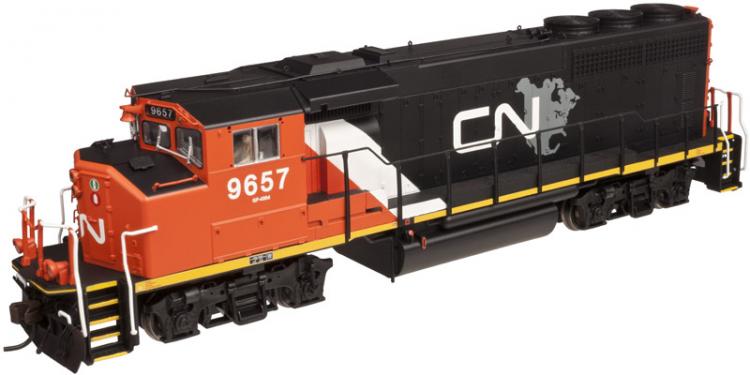 Well that about wraps up this update, thank you to all of you who are still reading this! And to those who just went to the end of this update to just read the conclusion! (Conclusion is below in red letters, it must be good!)
Our Black Friday Weekend Sale may be over but we will be back in December with some Christmas Specials! Check back here for some gret deals!
...............................................................................................................
At the Warley National Model Railway Exhibition Hornby announced new OO products that will be coming out in 2017 so let's get right to it!
What is sure to be a highlight for many is a new tooling of the famous LMS Class Princess Coronation (Modified) 4-6-2, also known as the Duchess! The new tooling will be able to produce even the last two built, 46256 & 46257. Three versiona have been announced for now, R3509TTS BR #46235 'City of Birmingham' in BR, R3553 LMS #6231 'Duchess of Atholl' in LMS & R3555 BR #46256 'Sir William A. Stanier F.R.S.' in BR Red with Late Crest. More specific details of R3509TTS & R3553's liveries will be added at a later date.
Hornby also announced a new tooled version of the BR Class 87 electric. Two versions have been announced, R3580 #87035 'Robert Burns' in BR Blue and R3582 #87010 'King Arthur' in BR's Intercity 'Swallow'.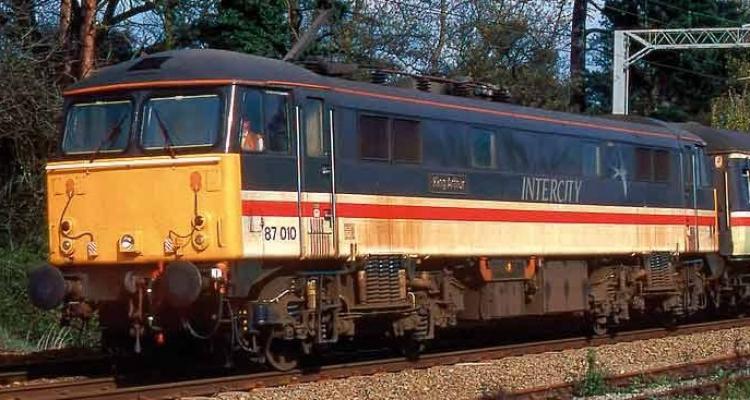 The new Hitachi Class 800/0 which will be going into service in 2017 on the UK's mainlines and Hornby will be producing models of these new trains in 2017. Two have been announced, R3514 Hitachi IEP Bi-Mode Class 800/0 in 'GWR' (Modern) and is a 5-car train pack. R3579 Hitachi IEP Bi-Mode Class 800/0 - DPTS & DPTF Test Train Power Units (2 Car Pack). R3579 is a Limited Edition.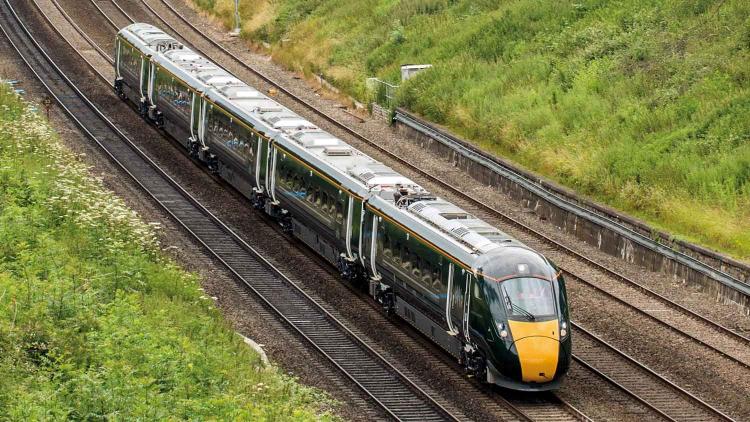 All three of these announcements join the previously announced SECR H Class 0-4-4T which Hornby announced in it's 'Engine Shed' in September 2016. Hornby has released more details about the identities of the first models. R3538 SECR #308 in SECR Lined Green, R3539 BR #31518 in BR Lined Black with Late Crest, & R3540 SR #1324 in Olive Green.
For rolling stock, GWR Diagram AA15 20-Ton 'Toad' Brake Vans will be a new tooling featuring "very high level of detail including handrails, handbrake levers, underside and other detailing". Two item numbers have been announced, R6823 GWR #56866 & R6824 BR #W68571.
These new 'Toad' brake vans join the BR Mk1 Brake Second Open (BSO) & First Open (FO) coaches which Hornby announced in October 2016. R4777 Brake Second Open #W9353 & R4778 First Open #W3123, both in BR Blue & Grey. R4788 Brake Second Open #E9220 & R4789 First Open #E3050 both in BR Maroon will be joining Hornby's growing range of Mk1 coaches.

Lastly, Hornby announced earlier in November that the old original ringfield motor, tender drive, B17 model will be rejoining the range under the RailRoad brand but will be re-engineered with locomotive driven chassis and making room for a 8-pin DCC socket in the tender. The model will also have more weight along the boiler to increase overall weight and traction. R3588 LNER #2864 'Liverpool' in Apple Green will be the first up.
That wraps up Hornby's new tooling announcements from the Warley National Model Railway Exhibition, there is a few other wagons and Skaledale buildings that were also announced so check out our Hornby Wagons & Skaledale pages to see what you can expect to see. This is only a part of Hornby's 2017 Range, Hornby has said that the rest of the range will be announced in January 2017.
Lastly, Hornby has said that the full catalogue that many have come to know and loved will be back in 2017!
All of these items are now available to Pre Order through Britannia Models!
Don't forget, you still have until the end of the day on Tuesday, Nov. 29 to purchase items from our 'Black Friday Weekend Sale'!
...............................................................................................................
I would like to wish all our customers south of the border a Happy Thanksgiving! And you know what that means... Black Friday is upon us! Here at Britannia Models, we are joining in on the Black Friday sales. From Thursday November 24 to Tuesday November 29 check out our 'Specials' page for all our Black Friday Deals!
Things have been anything but idle since our last big update! We have had a couple of big shipments from England with loads of new items! Just to name a few, we still have some of the Hornby LSWR Adam's Radial Tanks in all three colours (LSWR Green, BR Lined Black Early Crest & BR Lined Black Late Crest) still in stock for only $190.00.

Also from Hornby, we have had this years batches of Class 700 0-6-0, K1 Peppercorn 2-6-0, J15 0-6-0, 60xx King 4-6-0, 42xx/52xx 2-8-0T, 72xx 2-8-2T, Class 71 Electric, S15 4-6-0, A4 4-6-2 (in Wartime Black) and finally the A3 NRM 'Flying Scotsman' as it is today. All of these are in stock and you may even find some of them on a certain 'Black Friday' Sale!
The Warley National Model Railway Exhibition in Birmingham, England is taking place this weekend. We'll have to see if anything new gets announced by any of the manufacturers at the show! We will update our homepage as soon as we hear of any product annoucements!
Also, for all you O Gauge modelers out there, we have in stock 1 left of the LBSCR A1X Terrier 0-6-0T in GWR Green as #5 'Portishead' for only $284.99! As well, we have all of Dapol's newly announced models available to pre order on our website including the GWR 57xx 0-6-0PT, the LMS 3F Jinty 0-6-0T, and the GWR 64xx/74xx 0-6-0PT.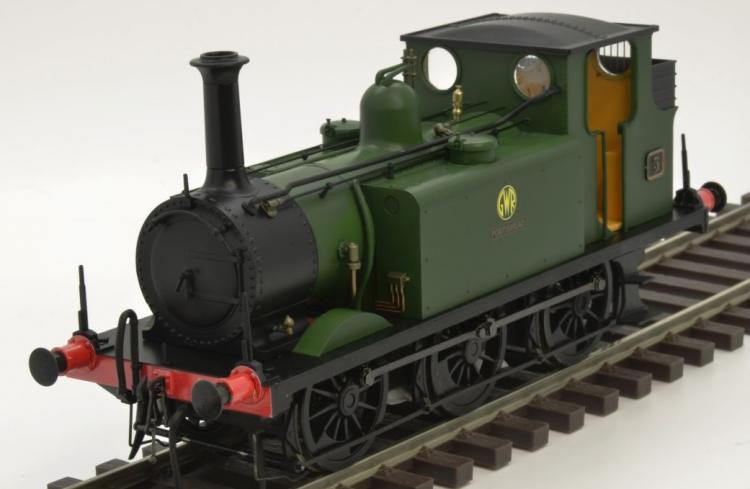 And I won't end this update without something for our Canadian HO modelers out there! Rapido Trains has posted online that the first shipment of RDC-1 Phase 1's has left the factory in China and is heading towards Canada! This first shipment will have the CN Noodle scheme and various US Roads. Rapido currently anticipate this to arrive in early December. The remaining Phase 1 RDC-1's will arrive towards the end of January with the Phase 2's at the end of February.

Remember, the Rapido Dash 8-40CM in CN & BC Rail colours are still available to Pre Order for only $214.95 with DCC Sound!
That's it for now, but we will most likely be back over the weekend with more 'Latest News'!
...............................................................................................................
---