Welcome to Britannia Models
Your Online British & Canadian Model Train Destination!
If you are interested in British model trains you have come to the right place.
We carry trains, diecast vehicles and accessories from companies such as Hornby, Bachmann Branchline, DJ Models, Dapol, Oxford Rail, Oxford Diecast, Corgi, Graham Farish, Metcalfe, Peco, Ratio, Wills and more.
We also carry Canadian HO trains from companies such as Rapido, Bowser, Atlas, InterMountain and more.
Click on the tabs and sub-tabs to go directly to our various product listings!
Phone: 604-465-5074
Email: info@britanniamodels.com
Office Hours: Tuesday - Saturday 10:00am to 5:00pm PST
---
Free Canada Wide Shipping On All Regular Price Orders Over $199
Before any applicable taxes. Please see our 'Policies' page for details
---
Show Schedule
Western Rails 2018 - Mar 18th, 2018 - 9523 Cameron Street, Burnaby, BC (9:00 am to 4:00 pm)
Supertrain 2018 - Apr 14th & 15th, 2018 - 7555 Falconridge Blvd NE, Calgary, Alberta (9:00 am to 5:00 pm)
Vancouver Island Spring Model Railroad Show 2018 - Apr 22nd, 2018 - Beban Park Recreation Centre, 2300 Bowen Road, Nanaimo, BC (10:00 am to 4:00 pm)
---
Latest News:
It has been busy here at Britannia Models with shipments arriving from Hornby, Bachmann Europe, Dapol, Rapido & Bowser. So let's get right to it!

The new steam locomotives from Hornby that we have are the R3508TTS BR A3 4-6-2 #60103 'Flying Scotsman' with Late Crest and TTS Sound ($289.99 - Only 1 Left!), R3518 The Final Day - LNER A3 4-6-2 #108 'Gay Crusader' in Apple Green ($249.99), R3530 BR J15 0-6-0 #65469 with Early Crest ($169.99), R3531 BR M7 0-4-4T #30129 with Late Crest ($199.99), R3533 Austerity J94 0-6-0ST 'Lord Phil' ($119.99), & R3560 BR Q1 0-6-0 #33032 with Late Crest ($139.99 - Only 1 Left!). We have already sold out of R3383TTS BR Castle 4-6-0 #5050 'Earl of St Germans' with Early Crest and TTS Sound ($269.99) & R3559 SR Q1 0-6-0 #C24 in Plain Black ($139.99) so don't miss out!


For diesels, we have the R3473 Class 56 #56108 in BR Railfreight with Red Stripe ($224.99). The R3510 Class 43 HST #43187 & 43188 (GWR Green) Train Pack - Limited Edition ($339.99) is now unfortunately sold out.

This years batch of BR 58' Rebuilt (ex LSWR 48') coaches are in. We have R4746A, R4747A, R4748A & R4749A in BR Maroon in stock for $64.99 each. Check the Hornby Coaches page for more details. Also, the R6825 Hornby Christmas Wagon 2017 is in stock for $29.99. These make for a great stocking stuffer!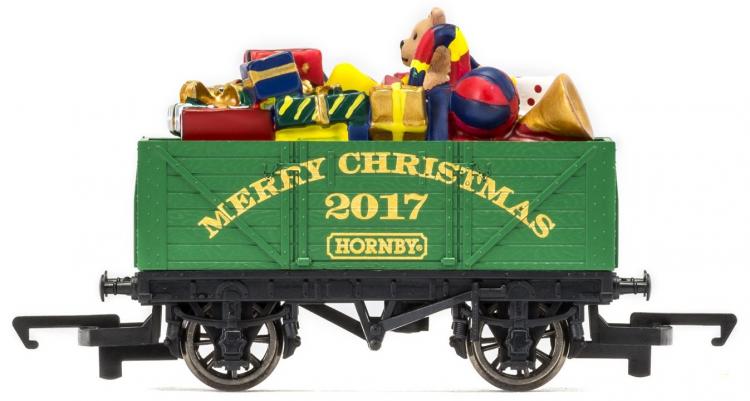 Hornby has now started to release their TTS Sound Decoders seperately and we have the first few released in stock now. R8101 Diesel - Class 31, R8106 Steam - A1/A3, R8107 Steam - A4, R8109 Steam - King, & R8110 Steam - Castle are all available for $64.99 each.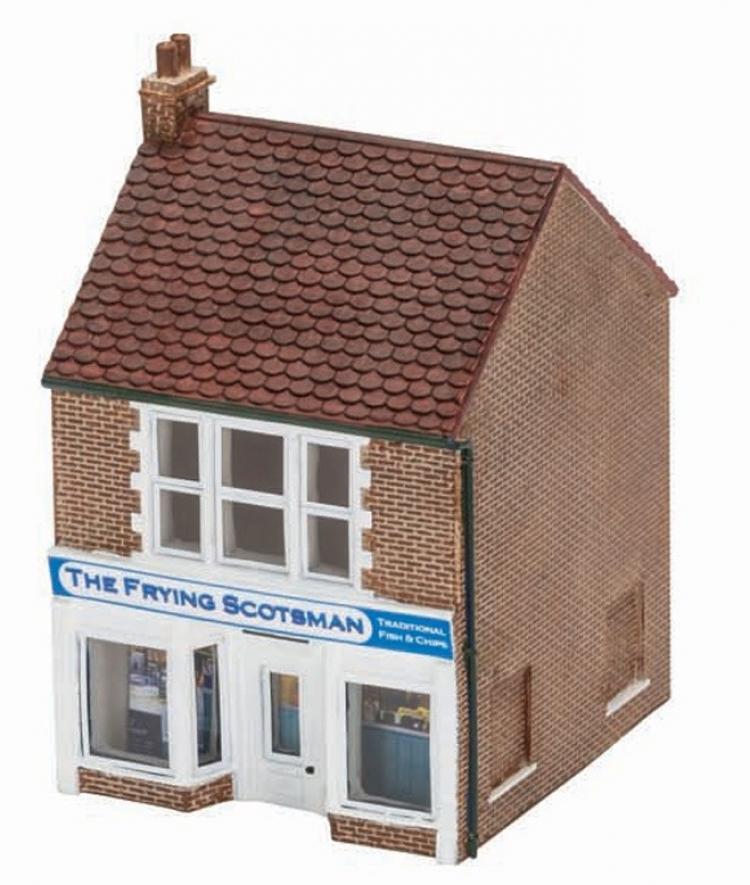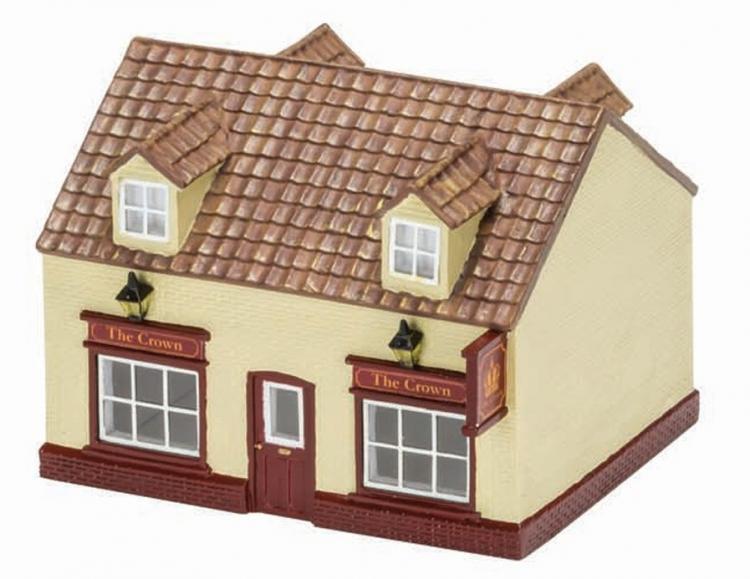 The newest Skaledale buildings are also here including R9861 'The Frying Scotsman' Fish & Chip Shop ($39.99)! Also in this shipment are the R9858 Village Post Office ($44.99), R9859 Village General Store 'Pelling's General Store' ($49.99) and R9860 Village Pub 'The Crown' ($59.99). No British village would be complete without a neighbourhood pub!

Turning our attention now to the Bachmann Europe items we have the new 31-236A Class 205 'Thumper' 2-Car DEMU #1121 (BR Green SYP) Weathered ($299.99) which would make a great addition to any BR Southern Region steam era layout!

For the present day modelers we have the 32-738 Class 66 #66711 'Sence' in GBRF/Aggregate Industries ($214.99) & 32-756 Class 57/6 #57603 'Tintagel Castle' in GWR Green ($214.99). These striking looking diesels would look great at the front of both passenger and goods trains.

For Bachmann coaches, we have the 39-032 Mk1 SK Second Corridor #SC24859 BR Sealink ($59.99) in stock. As well, in BR Network SouthEast colours we have 39-058 Mk1 SO Second Open #4945 ($59.99) , 39-082B Mk1 BSK Brake Second Corridor #35239 ($59.99), 39-265 Mk1 RMB Miniature Buffet Car #1865 ($59.99), 39-363A Mk2A TSO Tourist Second Open #5354 ($64.99) & 39-412A Mk2A BFK Brake First Corridor #17097 ($64.99) in stock. These Network SouthEast coaches would look great behind the Hornby R3471 Class 50 #50026 'Indomitable' ($219.99) which we have a couple left of.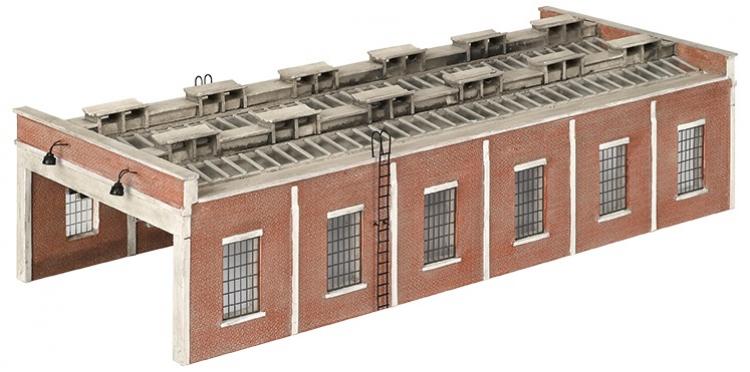 If you have been looking for a good large two road engine shed then this is your lucky day! As we have the 44-0033 Two Lane Engine Shed ($149.99) along with the 44-0076 Watermill ($59.99) & the 44-0080 Beach Huts ($24.99) in stock.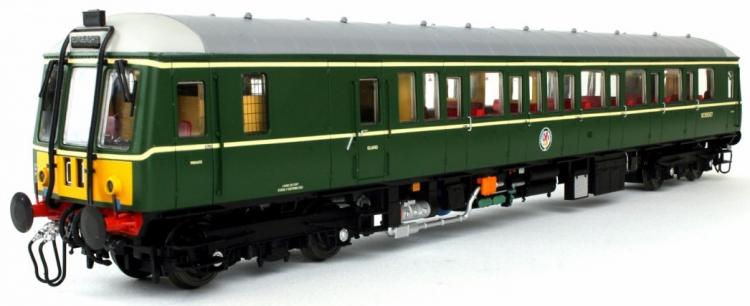 Dapol's new Class 122 Diesel Railcar has arrived. We still have in stock 4D-015-005 (Sold Out) Class 122 #SC55007 in BR Green SYP for $179.99.

Wagon wise from Dapol we have the new IDA Super Low 45' Container Twin Wagon in DRS colours ($59.99 per pack), IOA Open Wagons in Network Rail Yellow (as seen above) ($29.99 - Sold Out) and the FEA-B Spine Wagon Twin Packs in Freightliner colours ($59.99 per pack - Sold Out) in stock.

For our Canadian HO modelers, we have the new Rapido FA-2 & FPA-2 models in stock in both Great Northern & Canadian Pacific paint schemes. And the Great Northern FA-2 were frequant visitors to Vancouver, BC during their lives so they would be quite at home on a Canadian layout! DCC Sound versions are in stock in CP Maroon & Grey with Block Lettering (Sold Out), CP Maroon & Grey with Script Lettering & the distinctive Great Northern Empire Builder scheme for $299.99 each.


Lastly, the Bowser Trains MLW M636 models have arrived. We still have in DCC Ready, 24267 CN #2317 (Sergeant Stripes), 24290 CP #4738 (Large Multi-Mark) Stripe w/Water Tank & Ditch Lights, 24300 CP #4707 (Large Multi-Mark) Air Start w/Water Tank & Ditch Lights, 24305 CP #4723 (Large Multi-Mark) Mod Air Intake w/Water Tank & Ditch Lights & 24309 CP #4718 (No Mulit-Mark) Mod Air Intake w/Water Tank & Ditch Lights. These are $209.99 each.
Don't forget our Free Canada Wide Shipping On Regular Price Orders Over $199! Many of these new models already qualify on their own for free shipping!
That about wraps up this latest news update. Thank you for all of you who made it this far!
...............................................................................................................
---