Welcome to Britannia Models, your British model trains destination!
Click on the tabs and sub-tabs to go directly to our various product listings!
Our business, established in 1994 and online since 1998, serves a customer base of British railway modellers across North America. Given our niche market, in a very large geographic area, we have made recent changes to our business which will allow us to respond to all of our customers in a timely manner. Mail or phone orders, are available Tuesday - Saturday, 10:00 am to 5:00 pm pacific time while our online order system and our fax and voicemail facilities, are of course available 24/7.
Should we not be able to answer your call directly, our customer service targets are to answer email and voicemail, as well as to confirm stock situations for online orders, within a 24 hour window.
Phone: 604-538-2698
Fax: 604-538-2459
Email: info@britanniamodels.com
We carry a large selection of products including Hornby, Bachmann Branchline, Graham Farish, Dapol, Bassett-Lowke and Ace Trains, locomotives, rolling stock, track and accessories. Other model railway accessories include Peco, Ratio, Wills, Metcalfe, Woodland Scenics, Superquick, Kestrel. Diecast road vehicles in OO scale from Corgi, Oxford, Base Toys, EFE, Cararama and Classix.
---
A word (and two pictures) on the Great Gathering
2013 marked the 75th anniversary of Mallard's world speed record for a steam locomotive and to mark the occasion, preserved Class A4 No. 4489/60010 'Dominion of Canada' is in residence at the National Railway Museum in York, England, together with Mallard and the other four preserved A4's. The boss was lucky enough to visit the NRM in October and below are two pictures taken on that visit. The pictures are shown with the kind permission of photographer Derek Altoft.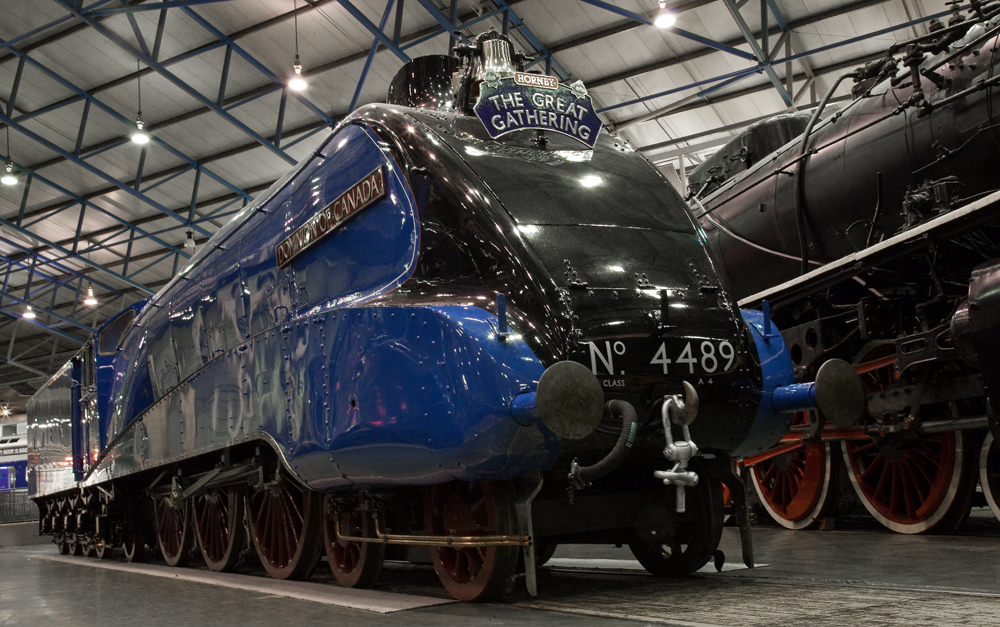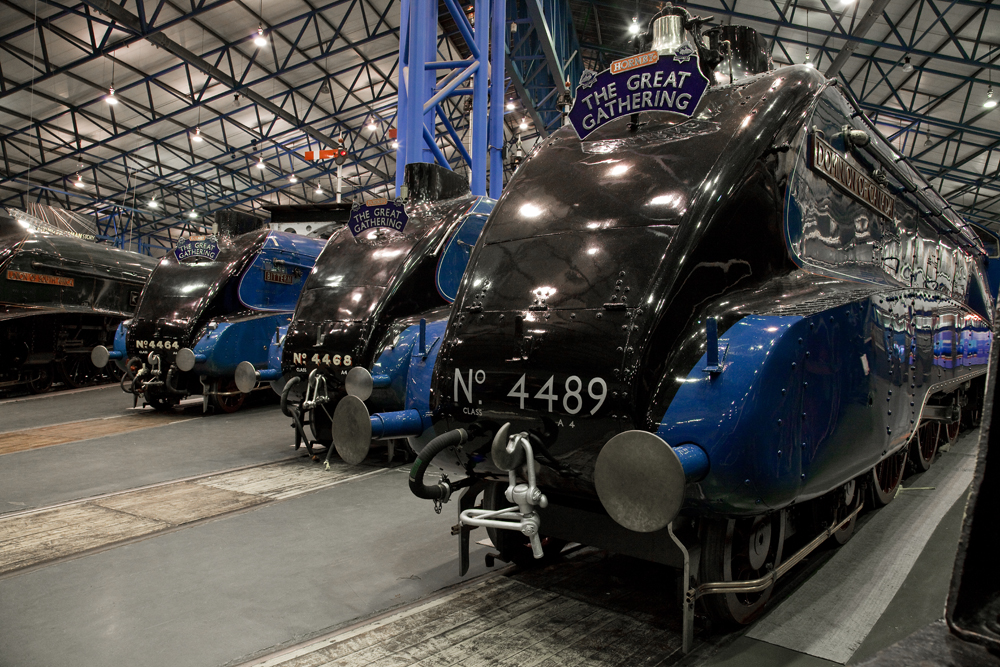 Yes, this is the same locomotive that was sitting, somewhat neglected and overlooked by many, deep in the Canadian Railway Museum (Exporail) in Montreal. At York it has received cosmetic restoration to its original LNER Garter Blue livery, complete with valances, double chimney, and bell. We will post more pictures from this event on a separate gallery page, in the near future.
---
Train shows in 2014
We expect to be attending the following shows in British Columbia during 2014. Hope to see you there!
WESTERN RAILS 2014: 32nd Annual Railroadiana Show. Sunday, March 16th, 9:00 am to 4:00 pm Cameron Rec Centre, Cameron St, Burnaby, B.C. (Across from Lougheed Town Centre).
30th Annual VANCOUVER ISLAND SPRING MODEL RAILROAD SHOW 2014: Sunday, April 27th, 10:00 am to 4:00 pm Beban Park Recreation Centre, 2300 Bowen Road, Nanaimo, B.C.
VICTORIA MODEL RAILWAY SHOW 2014: Sunday, September 7th, 10:00 am to 4:00 pm Juan de Fuca Recreation Centre, 1767 Island Hwy, Colwood, B.C.
TRAINS 2014: Saturday & Sunday, November 8th/9th, 10:00 am to 4:00 pm Cameron Rec Centre, Cameron St, Burnaby, B.C. (Across from Lougheed Town Centre). More information here: http://www.bctrains.org
---

Enjoy your visit to Britannia Models and try our friendly service. You can check out our history and a little bit more about us, here.
Thank you for stopping by!
---
Latest News:
November 28th, 2013 - Just in case you scroll down to latest news and don't see our red ink sale notice up the page, we are holding a Black Friday/Cyber Monday sale through this weekend with some very substantial reductions on a wide range of models. Just click on the Specials link on the right hand side of this page.
October 9th, 2013 - Due to arrive in February 2014 is the DVD set History of British Trains. There are over 7 hours of video documenting the history of trains in Britain including; special programs from the original BBC Series 'Railway Roundabout'; archive film of trains from the 1930's; topics on Flying Scotsman, Lancashire & Yorkshire Railway, Midland Pullman, Railways in Scotland, The Cambrian, Super D's, The Southern Belle and more. Priced at $24.95 this DVD collection is available to pre-order now for delivery in February.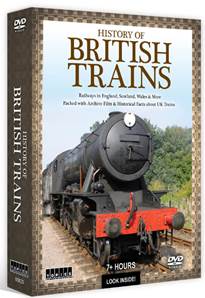 September 11th, 2013 - Did you catch the announcement this week of a new manufacturer of British outline model trains? We are pleased to be associated with DJ Models who will be marketing models in N, OO and O scales with a good range of features and realistic pricing. For now, you can view some initial information on the proposed range here and we will have details of the DJM range on this site in the next month or so.
July 9th, 2013 -
Hornby have today announced a number of delays to 2013 catalogue items. Hornby states that while there is no single reason for this delivery date movement, but that it is a culmination of factors impacting the delivery critical path, a proportion of delivery dates will not be met. A list of the products which will therefore be postponed until 2014 is available here:
http://www.hornby.com/news/2013-product-delays-and-modelzone-announcement/
Britannia Models intends to keep all advance orders for these items, active, unless customers which to cancel the order, as it is Hornby's intention to have these models available in 2014.
May 3rd, 2013 - Yeh! The consignment listing is finally back, and with added pictures! Check it out. There are some neat items there and more to come!
March 15th, 2013 - Hornby and Bachmann listings have all been updated to include items from the Hornby 2013 catalogue and the Bachmann 2013/14 catalogue.
March 13th, 2013 - News received today from Hornby, that there will indeed be another run of the SR 2BIL. R3161A and R3161AX will also be released in June so if you wanted a four-car train with different running numbers in either SR or BR livery, that is now doable. We are therefore taking orders for R3161A and R3161AX.