Welcome to Britannia Models
Your Online British & Canadian Model Train Destination!
If you are interested in Canadian or British model trains you have come to the right place.
We carry trains, diecast vehicles and accessories from companies such as Hornby, Bachmann Branchline, DJ Models, Dapol, Oxford Rail, Oxford Diecast, Corgi, Graham Farish, Metcalfe, Peco, Ratio, Wills and more.
We also carry Canadian HO trains from companies such as Rapido, Bowser, Atlas, InterMountain and more.
Click on the tabs and sub-tabs to go directly to our various product listings!
Phone: 604-465-5074
Email: info@britanniamodels.com
Office Hours: Tuesday - Saturday 10:00am to 5:00pm PST
---
Show Schedule - 2018
Western Rails 2018 - Thank you to everyone who attended for a great show! We also received Third Place in the "Best of Show Award" catagory!
Supertrain 2018 - Apr 14th & 15th, 2018 - 7555 Falconridge Blvd NE, Calgary, Alberta (Sat & Sun 9:00 am to 5:00 pm)
Vancouver Island Spring Model Railroad Show 2018 - Apr 22nd, 2018 - Beban Park Recreation Centre, 2300 Bowen Road, Nanaimo, BC (Sunday 10:00 am to 4:00 pm)
Victoria Model Railroad Show 2018 - May 27th, 2018 - Juan de Fuca Recreation Centre, 1767 Island Highway, Colwood, BC (Sunday 10:00 am to 4:30 pm)
Mt Cheam Lions Club Model Railway & Hobby Show 2018 - Oct 13th & 14th, 2018 - Heritage Park, 44140 Luckakuck Way, Chilliwack, BC (Sat 9:00 am to 5:00 pm; Sun 10:00 am to 4:00 pm)
Vancouver Train Expo - Nov 10th & 11th, 2018 - PNE Forum, 2901 East Hastings, Vancouver, BC (Sat 10:00 am to 6:00 pm; Sun 10:00 am to 5:00 pm)
---
Latest News:
March 3, 2018
Rapido Trains' latest model announcement is the GE B36-7 freight locomotive. These GE's were used by some of the largest railroad's in the USA such as the Atchison Topeka & Santa Fe, Southern Pacific, Conrail, Norfolk Southern & CSX.

BC Rail modelers will be happy with this announcement as BC Rail purchased second hand Santa Fe units which Rapido Trains will be producing in the form of 3607 & 3611 in the Red, White & Blue scheme with distinctive lightning stripe.
The BC Rail models will have correct details like the BCOL rebuilt number boards with cab-mounted bell, nose mounted headlights, unique BCOL front handrails plus working BCOL ditch & rock lights on both ends!
Rapido has said that the BC Rail models are conditional, dependent on enough pre-orders being placed by July 4th 2018 to meet the minimum quantities so don't hesitate! Order yours today!
The MSRP for these models is $399.95 for DCC Sound & $279.99 for DC Silent but Britannia Models is also having a 'Special Pre-Order Price' for the new B36-7. You can order through Britannia Models for only $329.99 for DCC Sound & $239.99 for DC Silent. This offer expires on July 4th, 2018.

We are also offering the 'Special Pre-Order Price' on all the other B36-7 models Rapido is making as well!

The Southern Pacific version will also come with many of the unique SP details including dual-beam clear lens Oscitrol warning lights at both ends & the red 'emergency' Gyralite.

Don't miss out on these highly detailed GE Dash 7 models!
.........................................................................................................................................................
February 2, 2018
Bowser has been making a lot of Canadian HO modellers very happy this week with new announcements, so let's get to the good stuff shall we!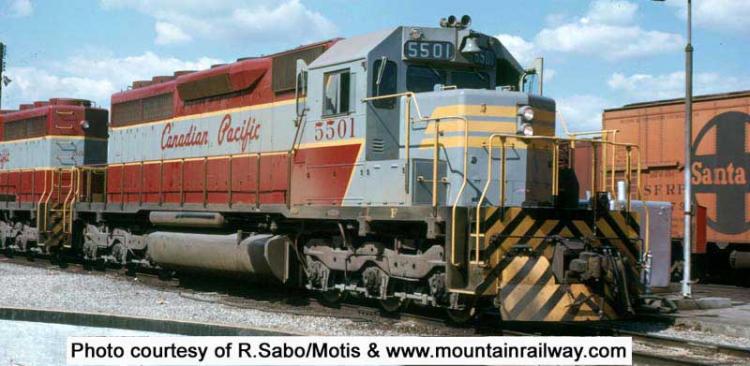 Last summer Bowser said that they were working on a proper GMD SD40 model but didn't say anything more, until now! And if you model Canadian railways from the 1960's on then you will need at least a few of these units in your fleet.
Canadian Pacific models will appear in multiple schemes including Maroon & Grey, various multimark's, no multimark, dual flag & St. Lawrence & Hudson schemes.

Canadian National versions will be made in both the original black & red scheme and the much loved stripes scheme.
As well, Bowser is making Algoma Central, Quebec North Shore & Labrador Railway (including during their careers with CP) and the Dakota, Minnesota & Eastern (DME).
These models will feature many road specific details such as snow shields where appropriate.
You can pre-order these now from Britannia Models for $299.99 for DCC Sound & $209.99 for DC Silent.
Estimated delivery is February 2019. Pre-orders are due April 26th 2018 to guarantee you get the model you want.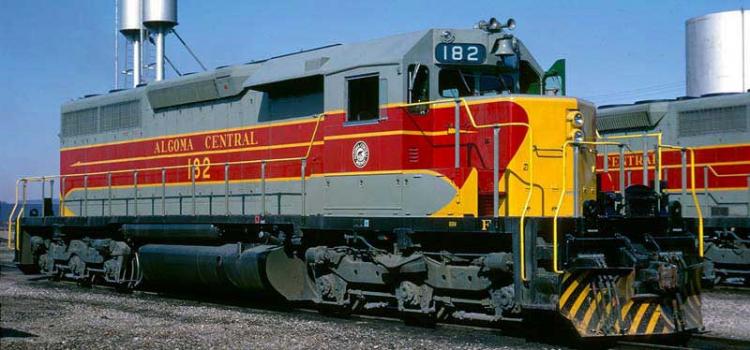 Next up, Bowser announced the next run of GMD SD40-2F's. These highly popular models will be returning in CP no multimark scheme with both round and rectangle porthole windows.
As well, Central Maine & Quebec Railway's attractive and retro looking blue & grey scheme and the CMQ's Bangor & Aroostok unit.
The newest batch of SDF40-2F's are available to pre-order for $309.99 for DCC Sound & $219.99 for DC Silent.
Estimated delivery is December 2018. Pre-orders are due March 29th 2018 to guarantee you get the model you want.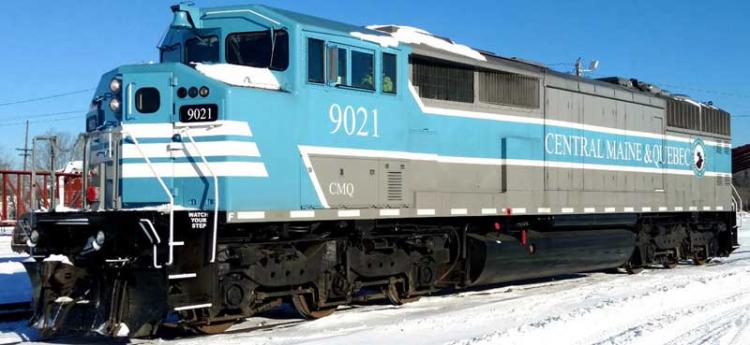 The final announcement was for a third batch of GMD SD40-2 models which includes BC Rail two-tone green paint scheme which sold out quickly last time. So don't miss your chance to get one of these true work horses! The BC Rail Red, White & Blue with hockey stick is also making a return.
A new detail this time around is the inclusion of CP units with the 'Elephant Ears' that CP experimented with in the 1980's. If you want something different, this is it!


For the first time, the 'Expressway' units are being produced. 5742 & 5745 were painted for a service in Eastern Canada but by the mid 2000's called BC home and spent many years working local trains in and around Vancouver & Coquitlam.
Also being introduced this round, CP's newly rebuilt SD40-2 locomotives to SD40-3 standards and renumbered into the CP 5100 series.

All of the new GMD SD40-2 models can be pre-ordered from Britannia for $299.99 for DCC Sound & $209.99 for DC Silent.
Estimated delivery is January 2019. Pre-orders for the SD40-2 are due by April 12th 2018 to guarantee you get the models you want.
Don't forget to check out our other items available pre-orders. The deadline has passed for the Bowser MLW M630 but if you missed pre-ordering let us know and we'll see if we can still get them for you!
As well, we have a special pre-order program right now for the Rapido FP7, F7B & F8B models. Pre-order the DCC Sound FP7 for the special pre-order price of $299.99. Likewise, the DCC Sound F7B & F9B special pre-order price is $279.99. But hurry! This special deal is only valid until April 29th 2018!

That about wraps things up for now. Check out our Canadian HO pages for details on all these models and more. I'm going to sign off on this very Canadian update with a line from one of the greatest Canadians of all time, "keep your stick on the ice!"
.........................................................................................................................................................
January 22, 2018
Rapido Trains have just released the first images of the new HO scale CPR Royal Hudson 4-6-4 models. And they sure are looking good! So we thought we'd share the Rapido pictures with all of you as well!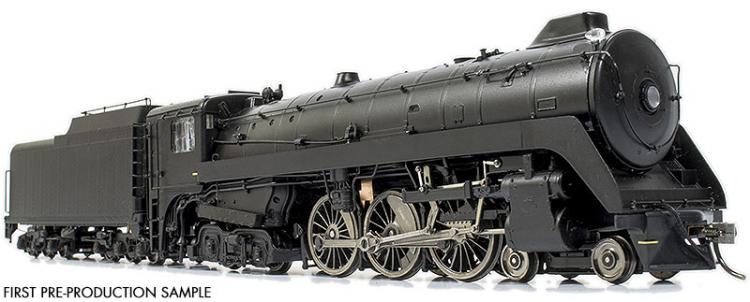 Remember, this is only the first pre-production sample. The model doesn't represent any exact item number but is used to test to see if everything is fitting together right and if overall it's on track (pun intended!).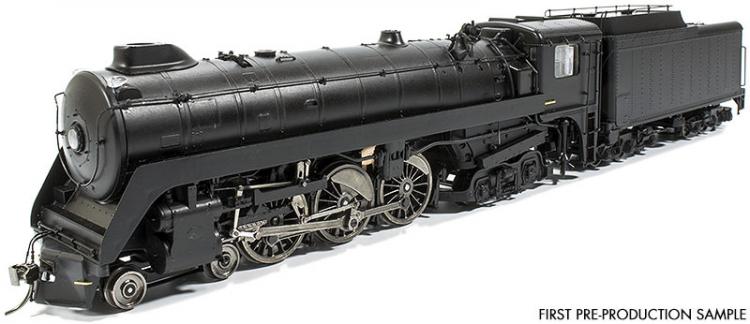 There are some adjustments to be made but for a first sample it's well on it's way to being the star of anyone's model railway and the envy of anyone who doesn't get one. So, don't envy others, pre-order yours today!

You can still pre order these from Britannia Models for $534.99 for a DC Silent version or $609.99 for a DCC Sound version.
.........................................................................................................................................................
January 8, 2018
Hornby today announced their 2018 Range of OO gauge products. With three brand new tooled steam locomotives leading the 2018 range it is sure to be a good year for many modelers!

First up is the North British Railway's (NBR) J36 0-6-0. These engines could be found all over the NBR system and lasted into the last days of Scottish steam! Hornby will be releasing three versions. R3600TTS NBR J36 0-6-0 #673 'Maude' in NBR Lined Black with TTS Sound, R3621 LNER J36 0-6-0 #722 in Lined Black and R3622 BR J36 0-6-0 #65311 'Haig' in Plain Black with Early Crest.

Hornby's next new tooling adds to it's impressive line of Southern Railway passenger engines with the introduction of Maunsell's Lord Nelson 4-6-0. Again three versions will be released. R3603TTS BR Lord Nelson 4-6-0 #30850 'Lord Nelson' in Lined Green with Late Crest and TTS Sound, R3634 SR Lord Nelson 4-6-0 #851 'Sir Francis Drake' in Olive Green without smoke deflectors and R3635 BR Lord Nelson 4-6-0 #30863 'Lord Rodney' in Lined Green with Early Crest.

Also coming out this year is a BR Blue version of the SR Merchant Navy 4-6-2. R3632 BR Merchant Navy Class 4-6-2 #35024 'East Asiatic Company' in Blue with Early Crest.
In 2017 Hornby released it's fantastic model of the LMS Princess Coronation 4-6-2 without the streamlined casing. In 2018, Hornby will be realing the all new tooled model of the LMS Streamlined Princess Coronation 4-6-2. And (you guessed it!) three versions will be coming out! R3623 LMS Streamlined Princess Coronation 4-6-2 #6221 'Queen Elizabeth' in Caledonian Blue, R3639 LMS Streamlined Princess Coronation 4-6-2 #6244 'King George VI' in Crimson Lake and lastly R3677 LMS Streamlined Princess Coronation 4-6-2 #6229 'Duchess of Hamilton'.

Other noteable models coming from Hornby this year include R3630 LNER A4 4-6-2 #4493 'Woodcock' in Apple Green and R3612 LNER A4 4-6-2 #4468 Mallard - Limited Edition Anniversary Pack which not only has 18 carot Gold plating on the running gear and other parts but also comes with a wooden plinth with 18 carot Gold plated rails and a reproduction of Mallard's World Speed Record plaque! This model is a Limited Edition of only 1,260 models to pre-order so you don't want to miss out!
You can check out the other locomotives from the 2018 range on our OO Scale - Hornby section. We will add prices once the Canadian price is known. We will also add the rest of the 2018 range later today.
Don't forget to place your pre-orders early so you don't miss out on these amazing models!
.........................................................................................................................................................
January 7, 2018
Today Bachmann announced their OO gauge 2018 Range of products so let's get right to it!
More details have been released regarding the new toolings of the LNER J72 0-6-0T. What was originally going to be a new chassis will now be a 100% brand new tooling which will allow most of the 113 strong class of 0-6-0T's to be produced. Variations will include vacuum brakes where applicable and different smokebox doors. The J72 will also have realistic firebox flicker and pre-fitted speaker for sound conversions.
The identities of item numbers 31-060, 31-061 & 31-062 has changed and a NER version, 31-063, has been added.

Southern collectors will be happy with the announcement of the LBSCR H1 Brighton Atlantic 4-4-2 model. Item #31-910 will be LBSCR #39 'La France'. This joins the previously announced H2 Brighton Atlantic. This new tooling specific to the H1 will include correct curved running plate, early cab and boiler fittings.

Back to the LNER, the identities of the all new tooling of the Gresley V2 2-6-2 will be item #35-200 LNER V2 2-6-2 #4791 in Apple Green and as built, 35-201 BR V2 2-6-2 #60845 in Lined Black with Early Crest, and 35-202 BR V2 2-6-2 #60847 'St Peter's School' in Lined Green with Late Crest and outside steam pipes.

The tooling of the GNR/LNER C1 Ivatt Large Boilered Atlantic 4-4-2 which was originally made exclusively for Locomotion Models is now being introduced into the main range of Bachmann products in the form of 31-761 GNR C1 Ivatt Large Boiler Atlantic 4-4-2 #272 (GNR Green) and 31-762 LNER C1 Ivatt Large Boiler Atlantic 4-4-2 #4421 (Lined Green).
The Railway Operating Division (ROD) in World War 1 ordered 521 locomotives based on a variation of the Great Central Railway 8K (later LNER O4) 2-8-0 locomtoive. Bachmann is making a new body tooling to represent the ROD engines. Two models are planned and will be 35-175 ROD 2-8-0 #1918 (War Department Black) and 35-176 LNWR (ex ROD) 2-8-0 #2394 (LNWR Black).
You can find more details about the other steam locomotive announcements on our Bachmann Steam Locomotive page in the OO Scale section.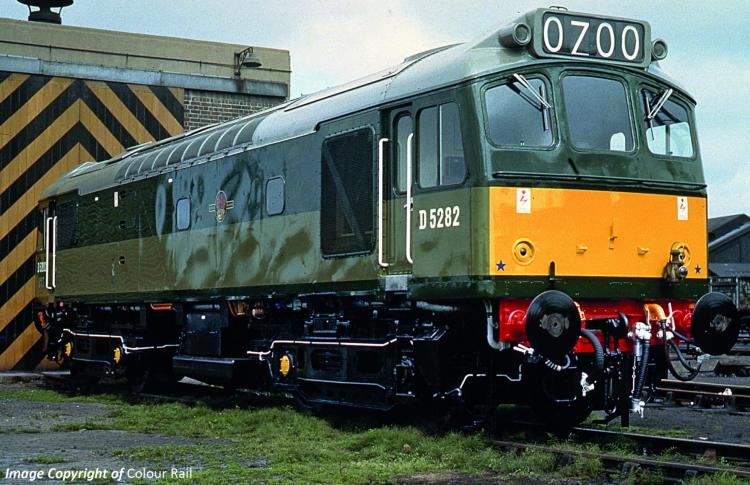 Moving onto diesel locomotives, Bachmann is making a brand new tooling of the Class 25/1 & 25/2 engines. 32-340 Class 25/1 #25060 in BR Blue Weathered finish and 32-341 Class 25/2 #D5282 in BR Green with Small Yellow Panel make up the first release of these new models.
Bachmann is developing a new range of second generation diesel multiple units to replace model previously available. These all new toolings will feature a low-level drive mechanism with DCC provisions.

The first DMU's announced are the 35-560 Class 168/3 2-Car DMU #168327 in Chiltern Railways.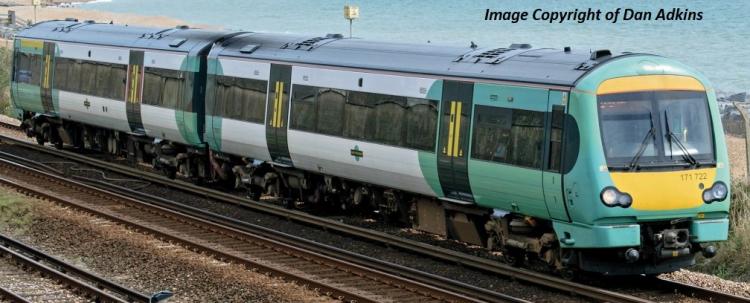 35-580 Class 171 2-Car DMU #171722 in Southern.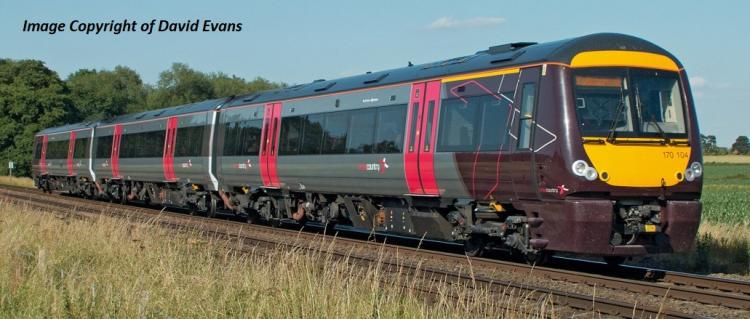 35-625 Class 170/1 3-Car DMU #170104 in Cross Country and 35-626 Class 170/4 3-Car DMU #170453 in ScotRail -Saltire.
Also, the Class 159 DMU will be coming out as 31-520 Class 159 3-Car DMU #159013 in BR Network SouthEast.
In the coach department, Southern modelers will be happy to see brand new Bullied coaches are being made. Bachmann is producing coaches with both early shallow window vents and later deep window vents. The late BR green coaches also feature the additional strengthening rib along the bodyside that some coaches received in their later years.
Since the Southern Railway and later the Southern Region of British Railways normally ran coaches in fixed formations, Bachmann will be producing the Bullied coaches in authentic and correct numbered sets. You can see all the available models on the coaches page of our Bachmann Europe OO section.

For wagons, Bachmann will be adding the War Office 'Parrot' Bogie Wagon to it's growing range of WW1 era models. Won't a rake of these wagons look good behind one of those ROD 2-8-0 engines! Especially the 38-740 War Office 'Parrot' Bogie Wagon in WD Grey with Sheeted Tank Load. 38-741 War Office 'Parrot' Bogie Wagon in LMS Grey is the second Parrot wagon that will be produced.
Moving onto OO9, Bachmann's next steam locomotive will be the Quarry Hunslet 0-4-0T. These little engines will look at home on any OO9 layout. Just look how cute they are! The first batch will be made up of 391-050 Quarry Hunslet 0-4-0T 'Alice' in Dinorwic Quarry Red, 391-051 Quarry Hunslet 0-4-0T 'Britomart' in Pen-yr-Orsedd Quarry Blue and 391-053 Quarry Hunslet 0-4-0T 'Dorothea' in Dorothea Quarry Lined Green.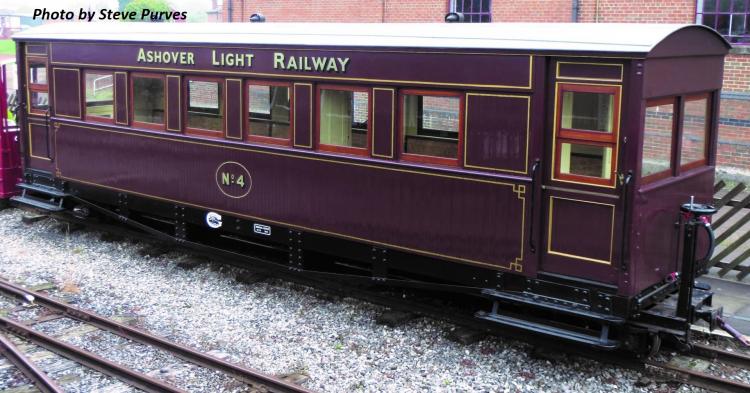 Bachmann has also announced their first OO9 coach in the form of the Ashover Railway's bogie coaches. 394-025 Ashover Bogie Coach in Ashover Railway Crimson and 394-026 Ashover Bogie Coach in Lincolnshire Coast Light Railway Blue & Cream will be the first two released.

Along with announcing the next batch of WD Covered Goods Wagon and WD Open Bogie Wagon, Bachmann is also adding the 4 Wheel Slate Wagons based on the Talyllyn Railway's in a 3-pack to it's growing range of OO9 products.
That about wraps up this rather large 'Latest News'. We will be back tomorrow when Hornby make their 2018 Range announcements!
...............................................................................................................
---