Ordering
How to Order:

Any regularly stocked item from our product listings can be ordered in one of the following ways:

• By using our on-line order form
• By phone
• By email

If not using our order form, be sure to include:

• The item number (e.g. R2321)
• The manufacturer (e.g. Hornby)
• The quantity required
• Your complete shipping address
• Your contact information (e.g. phone number, fax number, or email address)
• How you wish to pay.
We accept Visa or MasterCard for card payments made directly with ourselves.
We can also send you a Paypal invoice should you wish to pay through Paypal. This way you can use your credit card, bank account or Paypal account to pay. (You do not have to be a Paypal member to use the Paypal system).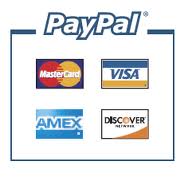 Payment must be complete before goods are shipped.

Please do not send cash in the mail.

Advance Orders:

You can place an advance order for a model which is not yet released. We usually do not require any deposit for pre-orders although we may ask for you to confirm your order with a deposit, not to exceed $50, for items that we expect may be provided to us on an allocation basis. (Allocation is where, due to unexpected worldwide demand, we are advised we are to receive fewer units than we ordered).

In the case of an allocation, orders will be filled on a first-come, first-served basis. We recommend using our advance order facility for any model that you are really wanting to get, which is not yet released. Remember that many models sell out quickly so don't be disappointed!

Shipping & Taxes:
Shipping costs are based on actual cost. We do not charge for boxes, packing materials or handling fees. Our orders are shipped by post or courier at our discretion. If the value is over $100 the item will be shipped with insurance.

For Canadian residents we must add appropriate sales taxes to the order. This means either GST only or your Provincial HST rate. BC residents will have the 7% BC-PST and 5% GST applied to the order.

International customers do not pay any additional duties or taxes on items shipped by us. No duties or taxes are added by us to invoices for packages going outside Canada. Your own customs people may add VAT or other taxes as your package enters your country.
Questions?:
If there is any aspect of our ordering process that you are unclear about, just send your question in an email. In fact, if you have any question about British model railways, or the products we carry, just email or phone us and we will do our best to answer.