Welcome to Britannia Models
Your Online British & Canadian Model Train Destination!
Britannia Models stocks British model trains in OO, N and O gauge along with Canadian HO, U.S. HO and European HO model trains. We carry track, diecast vehicles, buildings/kits, scenery items, tools, books and other model railway accessories.
Phone: 604-465-5074
Email: info@britanniamodels.com
Office Hours: Tuesday - Saturday 10:00am to 5:00pm PST
---
Gift Certificates available, email us for details.
---
Latest News
Dec 29, 2018
Some of our latest new arrivals include the long awaited OO gauge, Bachmann LBSCR Brighton Atlantic 4-4-2.
These stunning passenger engines will make a great addition to any collection or model railway. We have 31-920 SR H2 Atlantic 4-4-2 #2421 'South Foreland' (Olive Green) and 31-921 BR H2 Atlantic 4-4-2 #32424 'Beachy Head' (Lined Black - Early Crest) in stock for $259.99.


For diesels we've recieved two new Class 37 models. 32-789 Class 37/0 #37099 'Merl Evans' (Colas) Split Headcode and 32-392 Class 37/5 #37688 'Kingmoor TMD' (DRS Compass). These are $209.99 each.


Bachmann's new Mk1 Carflat wagons are on hand for $49.99. We have 38-900 Mk1 Carflat Wagon FVX #B745080 (BR Bauxite), 38-901 Mk1 Carflat Wagon FVX #B745054 (BR Blue) and 38-902 Mk1 Carflat Wagon FVX #B745053 (BR Blue - Motorail).
Mk1 Horse Boxes are in stock in the form of 38-525 Mk1 Horse Box #E96354 (BR Maroon) and 38-526 Mk1 Horse Box #S96367 (BR Green) for $49.99.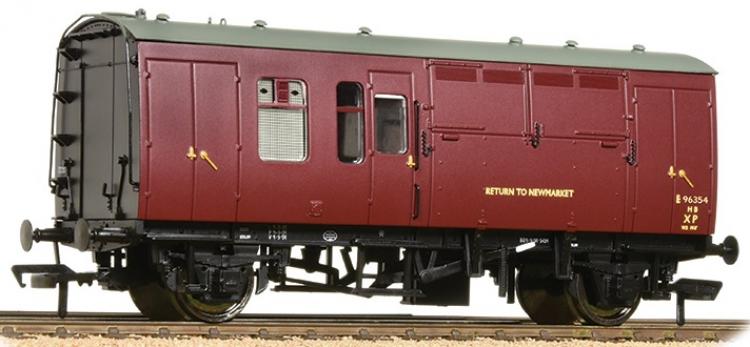 The new Bachmann Mk2F coaching stock has arrived including the pictured below 39-725DC Mk2F DBSO Driving Brake Second Open #SC9701 (BR Blue & Grey) with DCC fitted. Also in stock are 39-650DC Mk2F FO First Open #E3418 (BR Blue & Grey), 39-675DC Mk2F TSO Tourist Second Open #E5911 (BR Blue & Grey), 39-677DC Mk2F TSO #6015 (BR InterCity), 39-685DC Mk2F RFB Restaurant First Buffet #M1254 (BR Blue & Grey) and 39-700DC Mk2F BSO Brake Second Open #E9514 (BR Blue & Grey) coaches. All are DCC fitted and are $109.99 each.


39-760 Mk1 TPO POT Stowage Van #80420 NTX (Royal Mail Letters - Red) is in stock for $69.99.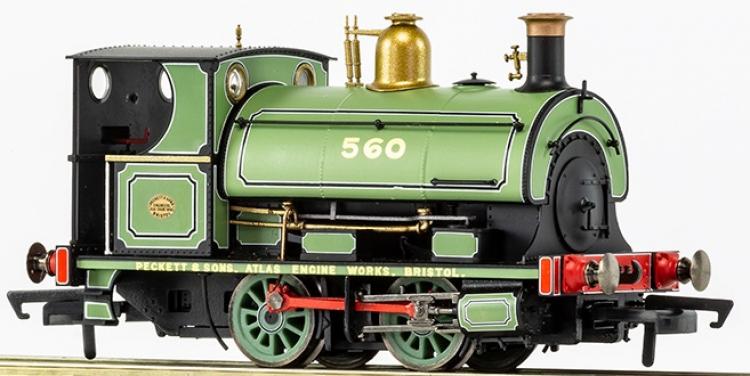 We have one remaining R3615 Peckett W4 0-4-0ST #560 (Peckett Works Leaf Green) in stock for $129.99.
Rapido Trains have announced three new HO models including officially announcing the next two models in the Icons of Canadian Steam collection.

First up, the Canadian Pacific D10 4-6-0 Ten-Wheeler. "The D10-class Ten Wheeler was the most numerous class of steam locomotive not only for the CPR but in Canada. Five hundred and two of these useful 4-6-0s were built between 1905 and 1913, and many lasted until the end of CP steam service in 1961. D10s were employed in freight and passenger work across Canada and into the United States on CP's many lines. There is truly no more useful locomotive for any steam era CPR layout than the D10."

Subclasses D10g, D10h, D10j & D10k will be produced along with a range of road number specific details including oil or coal tenders, high or low walkways, centered or smokebox-top headlights, straight or angled front number boards, two different bell locations and straight or angled cylinder steam pipes.

Different paint schemes are planned including freight black and passenger tuscan red. While operating for years in British Columbia, 962 became the only D10 to ever receive passenger colours. Dominion Atlantic Railway (DAR) and Quebec Central (QC) locomotives are also to be released.

Rapido Trains MSRP for the CPR D10 models are $499.95 (DC/Silent) and $599.95 (DC/DCC/Sound).
Britannia's pre-order price is $449.95 (DC/Silent) and $524.99 (DC/DCC/Sound). This offer expires on the day of Rapido's order deadline, October 14th 2019.

Not wanting to leave CN modelers feeling left out, Rapido Trains has announced the Canada National H-6-d/g 4-6-0. "Originally built for the Canadian Northern Railway, Canadian National's H-6 class 4-6-0 were a light, general-purpose locomotive perfectly suited to freight or passenger work across the entire CNR system. They lasted in regular service into the late 1950s with several being preserved after the end of steam."
Two subclasses will be produced, H-6-d & H-6-g. Like their D10 counter parts, they will feature many road specific details including oil or coal tenders (with or without extended bunker, wood or steel cabs, manual or power reversers, vertical or horizontal slat pilots, two different bell locations and two different headlight sizes. Models will also come with either a tilted wafer (tender crest) or a horizontal wafer.
The CNR H-6-d/g were in service all across Canada and some were leased to the Northern Alberta Railway (NAR) including 1392 (above) which has also been preserved in Alberta and is operational. 1373 (below) was in the late 1950's based out of Prince George, BC on the CNR Western Region.

Rapido Trains MSRP for the CNR H-6-d & H-6-g models are $499.95 (DC/Silent) and $599.95 (DC/DCC/Sound).
Britannia's pre-order price is $449.95 (DC/Silent) and $524.99 (DC/DCC/Sound). This offer expires on the day of Rapido's order deadline, October 14th 2019.

Lastly, Rapido Trains announced that they will be producing the EMD SW1200. "As dieselization progressed, many roads found themselves in need of a compact, lightweight locomotive to replace steam power on branch lines and other over-the-road assignments (freight and passenger) not requiring a full-fledged mainline road switcher. The SW1200 combined the right size and muscle for these assignments."

These new models will come be released with many features such as Type A or Flexicoil trucks, different fuel tanks, unique spark arrestors, MU cables, folding end-platform drop steps and different lighting options as specific to each road.

Various roads are catered for in this first run of EMD SW1200's including Burlington Northern (BN), Conrail (CR), Denver & Rio Grande Western (D&RGW), Grand Trunk Western (GTW), Great Northern (GN), Milwaukee Road (MILW), New Haven (NH), Northern Pacific (NP), Pennsylvania (PRR), Penn Central (PC), SOO Line (SOO), and Southern Pacific (SP).

Rapido Trains MSRP for the EMD SW1200 is $249.95 (DC/Silent) and $359.95 (DC/DCC/Sound).
Britannia's pre-order price is $224.95 (DC/Silent) and $319.99 (DC/DCC/Sound). This offer expires on the day of Rapido's order deadline, June 24th 2019.


Hornby will be announcing their 2019 Range on Monday, January 7th. We will add all of the new items as soon as possible! Be sure to check back here see all of the new items.
.........................................................................................................................................................
Dec 25, 2018
We here at Britannia Models would like to wish all of our customers around the world a very Merry Christmas!
.........................................................................................................................................................
Oct 26, 2018
Rapido Trains today announced a new addition to 'The Super Continental Line' of smoothside HO scale coaches.

The Pullman-Standard Lightweight Dining Cars, based off of the ones built for Canadian National in 1954, have been announced in a variety of paint schemes including CN Green & Gold, CN Black & White, VIA Rail Blue & Ontario Northland's 'Chevron' scheme.

We are again offering a special pre-order price on these coaches. The Rapido Canadian MSRP is $129.95. Place your order by June 24, 2019 and you only pay $112.99!

Rapido's Pullman-Standard Lightweight Dining Car models feature:
Full underbody detail including separate piping
48 seats, 40 seats, or diner-lounge interior options
Multi-colour interior with separate chairs, tables and kitchen details
Tables have detailed place settings
Track-powered "Easy-Peasy" lighting operated by magnetic wand (included)
Capacitor installed for flicker-free lighting over dirty track
Super detailed 41-BNO-11 or 41-N-11 trucks with in-line brake shoes
Working, improved diaphrams with etched-metal end gates
Separate grab irons installed at the factory
Water jugs and marker lights included in the box for ultimate realism
Improved Macdonald-Cartier couplers installed at correct height
Long-shank couplers included for curves down to 18" radius
Make sure you place your pre-orders to secure one of these great coaches!

.........................................................................................................................................................
---