LNER V2 2-6-2 #4791 (Apple Green) - Pre Order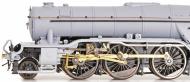 Britannia Price: TBA Canadian RRP: TBA UK RRP: £229.95
Bachmann's Expected Release - March 2021
LNER Class V2 2-6-2 (ALL NEW TOOLING) - The LNER class V2 steam locomotives were designed by Sir Nigel Gresley for express mixed traffic work. A total of 184 V2s were built in eleven batches between 1936 and 1944 at both Doncaster & Darlington Works. They were developed from the Class A1/A3 Pacifics with smaller driving wheels and a shorter boiler. The V2s were allocated to all regions of the LNER and remained in service until 1966. LNER 4771 'Green Arrow' (later LNER 800 and BR 60800) is preserved as part of the national collection. Green Arrow was the first of the class and named for publicity purposes for the launch of the LNER's express freight services and is the only preserved example of the class. Bachmann's all new model covers detail variations carried during their working lives including different tenders and cylinders.
Highlights
• All new body tooling
• Adjustable tender draw-bar length
• Pre-fitted speaker for ease of Digital Sound installation
• Realistic fire-box flicker
• Sprung buffers
.