Class 08 #D3156 (BR Green - Late Crest - No Warning Panels) DCC Sound - Pre Order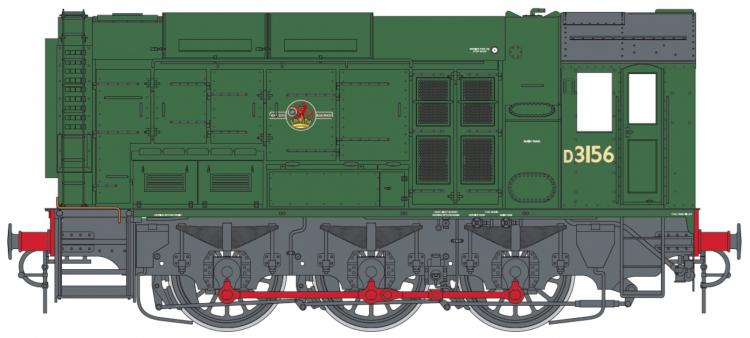 Pre Order: 10% off CAD RRP Canadian RRP: $619.99 estimate UK RRP: £412.97
Dapol's Expected Release - Q4 2022/Q1 2023
Specification:
Sprung metal buffers
Diecast Running plate for extra quality and weight
Independently controlled running and cab lights
Sprung metal coupling hook and screw coupling
Etched plates where applicable

Finely moulded body with many separately added fine details

Cast profiled wheels with fine relief and appropriate colouring

Heavy Diecast chassis and all wheel pick up

Powerful 5 pole skew wound motor with refined slow running control
Prototype History
The British Rail Class 08 diesel-electric shunter is the most numerous of all British locomotive classes. In all 996 were produced between 1953 and 1962 at the BR works at Crewe, Darlington and Doncaster. The Class 08 became the standard BR Shunter and was a very common sight at stations and freight yards until the 1990s. However, as the nature of the British Railways changed with fixed rakes of wagons and the introduction of multiple units, the requirements for shunting diminished and many Class 08 were either scrapped or sold overseas, including 15 to Australia and 5 to Liberia. The Class 08's role as a shunter has been continued onto the heritage railways and over 60 have survived into preservation, making it the most numerous class of preserved locomotive.
.