Oxford - Ford Consul Capri - Lime Green/Ermine White - Out of Stock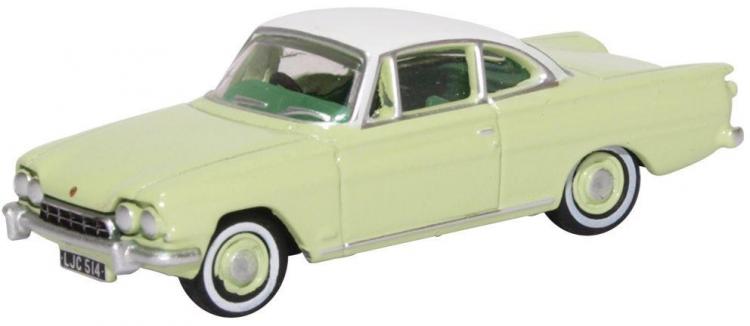 A classic car from the 1960's, the Ford Consul Caprifrom the Ford Motor Company launched in September 1961 had been developed under codename 'Sunbird' with more than a hint of similarity to the Ford Thunderbird and the Ford Galaxie Sunliner. Its eye-catching sweeping lines, sporty 2-door configuration, a large boot and a pillarless coupe roof were all in its favour although it was a year before the UK enthusiasts could get behind the wheel as early production models were all exported, the first 200 being made with left hand drive. The Capri also came with several 'de-luxe' features including a four headlight configuration, variable speed wipers, front disc brakes, dimming dashboard lights and even a cigar lighter! The four speed transmission came with the option of either a column or floor change.
We've chosen a refreshing lime green and off-white colour scheme with matching pale green wheels which also have a white rim. The interior has a deeper green finish to dash, floor and seats. Lots of exterior chrome work enhances the gleaming body colour and notice the authentic four headlight cluster on each side of the fine radiator grille, just like the real thing. Our 2-door coupe is registered LJC 514.