GWR 43xx Mogul 2-6-0 #5322 (WD Khaki Brown) - Pre Order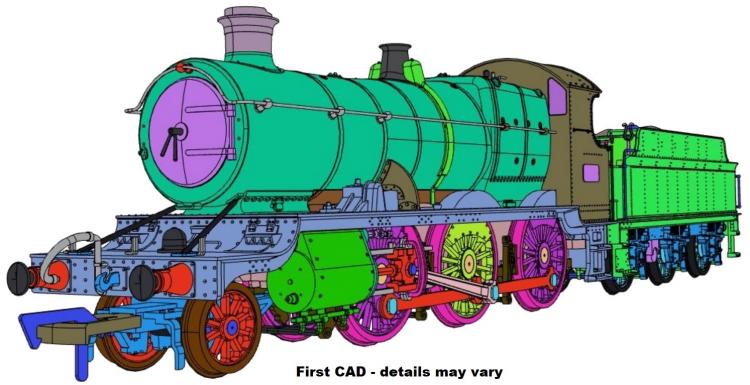 Canadian RRP: $TBA UK RRP: £167.95
Dapol's Expected Release - Q1/Q2 2022
A die-cast compensated chassis
New cab with higher and shorter roof
Porthole cab windows above the firebox – where appropriate
Detailed cab interior with lever reverse
Full profile cylinder – no cut away
New motion bracket and boiler support
Improved slide bars and cross head
New straight Chimney – where appropriate
Original front Pony spring housing – where appropriate
New footplate with longer middle splasher on the right hand side
Brass plated safety valve casing
The front Bogie is also sprung and operates on a cam so the model will negotiate R2 curves with ease
Smooth sided tender where appropriate
Churchward tapered and Collet straight shank buffers and main footplate with prototypical overhang.
A slide in PCB offers simple tool-free installation of a NEXT-18 DCC decoder and a no-solder speaker connection. This board slides through the smoke box door and connects directly to the locomotive mother board.
The tender to locomotive drawbar includes reliable electrical connections moulded within the close-coupling push-fit coupling. This eliminates wired plugs and unreliable wiper style connections.
A total of 12 wheels split between the locomotive and tender have electrical pick-up, this is enhanced by the sprung centre driving wheel.
A sugar cube is mountable on the slide out PCB board and a Base Reflex speaker can be housed in the tender. An audio frequency filter is integrated within the main locomotive PCB to ensure each speaker responds within its ideal frequency range.
Improved firebox glow (synchronised with DCC sound on Factory fitted models only)
Dapols proven slow speed mechanism and high torque five pole skew wound motor
Enhance your driving experience with our feature RealDrive on Factory DCC fitted models only
Dapol has announced the second production run of the extremely popular GWR 43xx 2-6-0 Mogul at the World of Railways 2021 Virtual show. The original production run, released in 2020, featured locomotives with numbers starting 63xx and 73xx. The tooling suite is being expanded to allow us to increase the range of prototype models and their associated liveries that we can portray, locomotives with numbers starting from 4321 up to 5383 inclusive can now be accurately modelled. These models will include several developments to improve on what was already a fantastic model which we will discuss in more detail below.
The tooling package for the original batch of Moguls was from its very inception designed to allow us to produce the other versions of the prototype. The model incorporates many of the features and benefits from the first batch of OO Gauge Moguls. As well as Dapol's, customary, excellent aesthetics the model will feature Dapol's award winning slide out PCB and the tried and tested easy connect, wire free, tender to locomotive electrical draw bar. The inclusion of these two features makes converting your model to DCC or DCC and sound very easy indeed.
Many original GA drawings were used in the development of these accurate and authentic models. The locomotive will have all of the usual refinements that are expected to be found on all Dapol models.