BR 15xx 0-6-0PT #1501 (Lined Black - Early Crest) As Preserved - Pre Order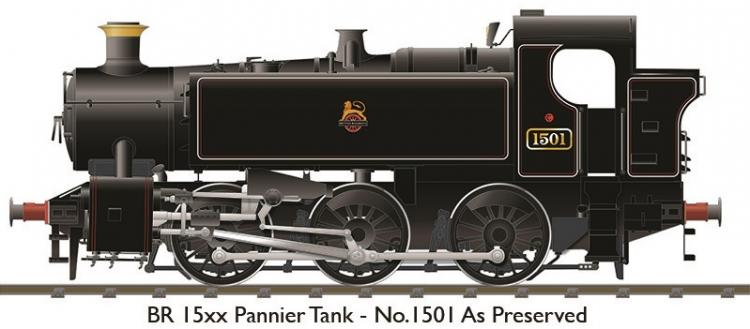 Britannia Pre Order: $TBA Canadian RRP: $TBA UK RRP: £149.95
Die-cast metal construction
High quality motor and mechanism
Next18 DCC decoder socket
DCC Sound option
Lots of separately fitted details
NEM coupler pockets
Sprung Buffers
Although designed during the days of the Great Western Railway, the ten 15xx class were actually built by the newly formed British Railways in 1949. The design was a major departure from the GWR's tried and tested pannier tank formula. Designed by Frederick Hawksworth and his team, the 15xx featured a very short wheelbase for negotiating tight curves as well as outside cylinders and Walschaerts valve gear. It is said that the bottom end design resembled the USATC S100 class 0-6-0T, better known as the Southern Railway (SR) USA class, which had been used on the GWR during the Second World War. Above the (non-existent) running board, the locomotives resembled Hawksworth 94xx class 0-6-0PT, which shared the same design of boiler.
The 15xx's short wheelbase precluded fast running and their weight severely restricted their sphere of operation. They were predominantly based at Old Oak Common shed for empty coaching stock workings in and wout of London Paddington station. However, a few of the class escaped to other locations including Southall, Didcot, Sveern Tunnel Junction, Cardiff Canton and Newport. Examples could be found as far afield as SOuth Wales. Although designed for shunting, they did occasionally work short-haul passenger and local goods trains.
Sadly, as with most post-war steam designs, their working lives were cut short thanks to rapid dieselisation. The first 15xx was withdrawn after only ten years of service and the last were condemned at the end of 1963. Three were bought by the National Coal Board (NCB) for further use at Coventry Colliery where they continued to work until 1969. Happily, No.1501 was bought from NCB by the embryonic Severn Valley Railway. It returned to steam in 1997 and has proven to be a popular and powerful member of the fleet.