Rapido - RailCrew - Switch Machine with Rotating Target - In Stock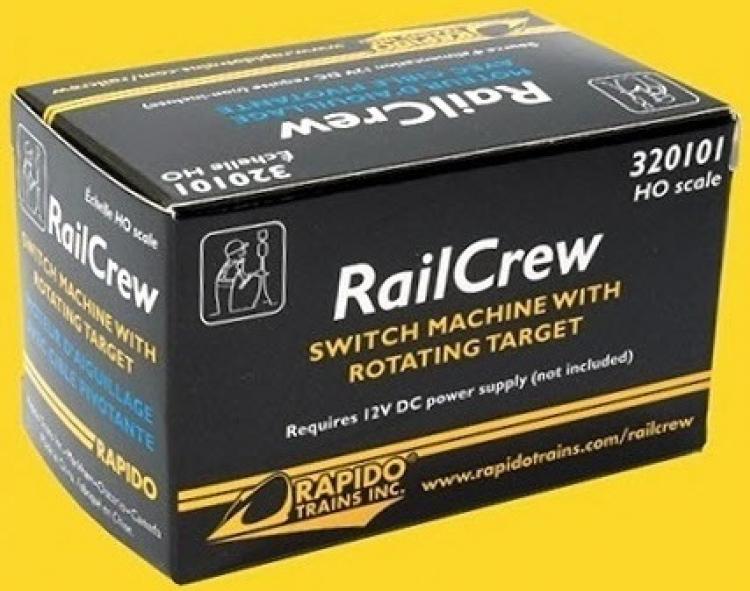 The RailCrew Switch Machine with Rotating Target is the only hidden switch machine guaranteed to turn heads after you install it on your layout. As well as the machine itself, it comes with three different WORKING injection plastic moulded switch stands and ten different photo-etched metal targets based on most major North American railroad designs. The target (and optional, non-working lantern – two styles!) actually rotates just like the real thing. Yes, you read that correctly. The unit also comes complete with SPDT auxiliary contacts to power frogs and signals.
This innovative new product features:
Compact 1 1/8″(28.5mm) diameter x 1″ (25mm) height
Easy to install on existing layouts
Museum-quality switch stands with rotating targets
Racor 17B (tall), 31B (tall) and 20C (low) switch stands ALL included!
Momentary 12V DC power – power numerous machines off of one power supply.
Strong enough to throw and hold the points but it won't break them
SPDT auxiliary contacts to power frogs and signals
Low-profile, compact design – it's really tiny!
Work with all layout types, including multi-deck and portable layouts
Available in singles, 6-packs or 12-packs
Switch stands and targets also available separately
The switch machine works by moving the throwbar to your points, just like the real thing. And the target rotates, just like the real thing. This is ideal for shoulder- and eye-height layouts where you can't necessarily see which way the points are set. It also looks AMAZING on any layout!
The mechanism is barely the thickness of your subroadbed, which is a massive step up from the bulky machines on the market today. This makes our switch machine ideal for multi-deck layouts, even with the tightest vertical clearances.